Bug

Minor

Jenkins ver. 2.222.4
Pipeline Stage View Plugin Version: 2.14
Ubuntu 18.04 - OpenJDK 11

Client: Firefox 79.0 (64-bit) on Ubuntu 18.04
After a recent plugin update the Stage logs overlay appears see-through, making it illegible.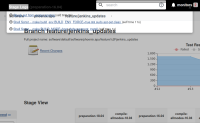 Probably just a CSS bug somewhere.
Maybe related to this here "background:repeating-linear-gradient":
https://github.com/jenkinsci/pipeline-stage-view-plugin/compare/pipeline-stage-view-2.13...pipeline-stage-view-2.14#diff-ca80e07bd1aa57be9a70e596ef94091c
I'm in the process of reverting to the previous version to verify the cause is in the latest version - bear with me.
Let me know if I can get you any more info.
is duplicated by

JENKINS-63406 Wrong displaying of logs window

Closed