Type: Bug

Priority: Critical

Environment:

Jenkins 2.16
GitHub Branch Source Plugin v1.8.1 (latest)
GitHub API Plugin v1.76 (latest)
GitHub Organization Folder Plugin v1.4 (latest)
GitHub plugin v1.20.0 (latest)
Git plugin v2.5.3 (latest)
If you only want to "Build origin branches also filed as PRs" as in the screenshot then the plugin never fetched any PR infos which resulted in the Set originBranchesWithPR being always empty. So it actually never build anything.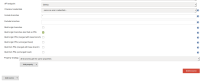 I already proposed a fix here: https://github.com/jenkinsci/github-branch-source-plugin/pull/67
I use this version in my projects now and it works without any issues.