Type: Bug

Priority: Major

Environment:

Jenkins:
Core 2.109 with BO 1.5.0-beta-1
All other plugins at experimental update center levels
Summary:
After upgrading to 1.5-beta-1, I've seen twice now an InvocationTargetException when attempting connecting to a Bitbucket server to which I'd previously connected.
Frequency of Occurrence:
100% reproducible so far.
Steps to recreate:
0. Optional: assuming you've got filesystem access to your Jenkins server, run tail -f /var/log/jenkins/jenkins.log so you can monitor the Jenkins log in real time.
1. Given an existing Jenkins installation with BO 1.4.x installed, take the 1.5.0-beta-1 upgrade. The Jenkins instance should be already connected to a Bitbucket server.
2. Create an empty repository on this same Bitbucket server, using the flow in the BBS UI. Make no commits to it - my thinking was that I could build the repo from nothing, using the edtor. It'll look something like this when you're done: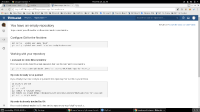 3. Create a new pipeline, and pick the "Project" in which you created the new repo. In my case this project is called "February." Tthe loading wheel will get stuck at this loading wheel for many minutes: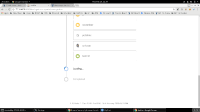 4. Take a look at the output from the Jenkins log you started tailing in step 0, and you'll see the InvocationTargetException being thrown:
Feb 27, 2018 2:47:26 AM io.jenkins.blueocean.commons.stapler.export.ExportInterceptor$1 getValue
WARNING: Failed to get "repositories" from a io.jenkins.blueocean.blueocean_bitbucket_pipeline.BitbucketRepositoryContainer
java.lang.reflect.InvocationTargetException
	at io.jenkins.blueocean.commons.stapler.export.MethodProperty.getValue(MethodProperty.java:74)
	at io.jenkins.blueocean.commons.stapler.export.ExportInterceptor$1.getValue(ExportInterceptor.java:46)
	at io.jenkins.blueocean.commons.stapler.Export$BlueOceanExportInterceptor.getValue(Export.java:167)
	at io.jenkins.blueocean.commons.stapler.export.Property.writeTo(Property.java:136)
	at io.jenkins.blueocean.commons.stapler.export.Model.writeNestedObjectTo(Model.java:228)
	at io.jenkins.blueocean.commons.stapler.export.Model.writeNestedObjectTo(Model.java:224)
	at io.jenkins.blueocean.commons.stapler.export.Model.writeTo(Model.java:199)
	at io.jenkins.blueocean.commons.stapler.Export.writeOne(Export.java:148)
	at io.jenkins.blueocean.commons.stapler.Export.serveExposedBean(Export.java:139)
	at io.jenkins.blueocean.commons.stapler.Export.doJson(Export.java:79)
	at io.jenkins.blueocean.commons.stapler.TreeResponse$Processor$1.generateResponse(TreeResponse.java:48)
	at org.kohsuke.stapler.HttpResponseRenderer$Default.handleHttpResponse(HttpResponseRenderer.java:124)
	at org.kohsuke.stapler.HttpResponseRenderer$Default.generateResponse(HttpResponseRenderer.java:69)
	at org.kohsuke.stapler.Function.renderResponse(Function.java:136)
	at org.kohsuke.stapler.Function.bindAndInvokeAndServeResponse(Function.java:119)
	at org.kohsuke.stapler.IndexDispatcher.dispatch(IndexDispatcher.java:26)
	at org.kohsuke.stapler.Stapler.tryInvoke(Stapler.java:715)
	at org.kohsuke.stapler.Stapler.invoke(Stapler.java:845)
	at org.kohsuke.stapler.MetaClass$3.doDispatch(MetaClass.java:209)
	at org.kohsuke.stapler.NameBasedDispatcher.dispatch(NameBasedDispatcher.java:58)
	at org.kohsuke.stapler.Stapler.tryInvoke(Stapler.java:715)
	at org.kohsuke.stapler.Stapler.invoke(Stapler.java:845)
	at org.kohsuke.stapler.MetaClass$10.dispatch(MetaClass.java:374)
	at org.kohsuke.stapler.Stapler.tryInvoke(Stapler.java:715)
	at org.kohsuke.stapler.Stapler.invoke(Stapler.java:845)
	at org.kohsuke.stapler.MetaClass$3.doDispatch(MetaClass.java:209)
	at org.kohsuke.stapler.NameBasedDispatcher.dispatch(NameBasedDispatcher.java:58)
	at org.kohsuke.stapler.Stapler.tryInvoke(Stapler.java:715)
	at org.kohsuke.stapler.Stapler.invoke(Stapler.java:845)
	at org.kohsuke.stapler.MetaClass$10.dispatch(MetaClass.java:374)
	at org.kohsuke.stapler.Stapler.tryInvoke(Stapler.java:715)
	at org.kohsuke.stapler.Stapler.invoke(Stapler.java:845)
	at org.kohsuke.stapler.MetaClass$10.dispatch(MetaClass.java:374)
	at org.kohsuke.stapler.Stapler.tryInvoke(Stapler.java:715)
	at org.kohsuke.stapler.Stapler.invoke(Stapler.java:845)
	at org.kohsuke.stapler.MetaClass$10.dispatch(MetaClass.java:374)
	at org.kohsuke.stapler.Stapler.tryInvoke(Stapler.java:715)
	at org.kohsuke.stapler.Stapler.invoke(Stapler.java:845)
	at org.kohsuke.stapler.MetaClass$10.dispatch(MetaClass.java:374)
	at org.kohsuke.stapler.Stapler.tryInvoke(Stapler.java:715)
	at org.kohsuke.stapler.Stapler.invoke(Stapler.java:845)
	at org.kohsuke.stapler.MetaClass$10.dispatch(MetaClass.java:374)
	at org.kohsuke.stapler.Stapler.tryInvoke(Stapler.java:715)
	at org.kohsuke.stapler.Stapler.invoke(Stapler.java:845)
	at org.kohsuke.stapler.Stapler.tryInvoke(Stapler.java:686)
	at org.kohsuke.stapler.Stapler.invoke(Stapler.java:845)
	at org.kohsuke.stapler.MetaClass$10.dispatch(MetaClass.java:374)
	at org.kohsuke.stapler.Stapler.tryInvoke(Stapler.java:715)
	at org.kohsuke.stapler.Stapler.invoke(Stapler.java:845)
	at org.kohsuke.stapler.Stapler.invoke(Stapler.java:649)
	at org.kohsuke.stapler.Stapler.service(Stapler.java:238)
	at javax.servlet.http.HttpServlet.service(HttpServlet.java:790)
	at org.eclipse.jetty.servlet.ServletHolder.handle(ServletHolder.java:841)
	at org.eclipse.jetty.servlet.ServletHandler$CachedChain.doFilter(ServletHandler.java:1650)
	at hudson.util.PluginServletFilter$1.doFilter(PluginServletFilter.java:154)
	at org.jenkinsci.plugins.ssegateway.Endpoint$SSEListenChannelFilter.doFilter(Endpoint.java:225)
	at hudson.util.PluginServletFilter$1.doFilter(PluginServletFilter.java:151)
	at io.jenkins.blueocean.ResourceCacheControl.doFilter(ResourceCacheControl.java:134)
	at hudson.util.PluginServletFilter$1.doFilter(PluginServletFilter.java:151)
	at io.jenkins.blueocean.auth.jwt.impl.JwtAuthenticationFilter.doFilter(JwtAuthenticationFilter.java:61)
	at hudson.util.PluginServletFilter$1.doFilter(PluginServletFilter.java:151)
	at hudson.util.PluginServletFilter.doFilter(PluginServletFilter.java:157)
	at org.eclipse.jetty.servlet.ServletHandler$CachedChain.doFilter(ServletHandler.java:1637)
	at hudson.security.csrf.CrumbFilter.doFilter(CrumbFilter.java:105)
	at org.eclipse.jetty.servlet.ServletHandler$CachedChain.doFilter(ServletHandler.java:1637)
	at hudson.security.ChainedServletFilter$1.doFilter(ChainedServletFilter.java:84)
	at hudson.security.UnwrapSecurityExceptionFilter.doFilter(UnwrapSecurityExceptionFilter.java:51)
	at hudson.security.ChainedServletFilter$1.doFilter(ChainedServletFilter.java:87)
	at jenkins.security.ExceptionTranslationFilter.doFilter(ExceptionTranslationFilter.java:117)
	at hudson.security.ChainedServletFilter$1.doFilter(ChainedServletFilter.java:87)
	at org.acegisecurity.providers.anonymous.AnonymousProcessingFilter.doFilter(AnonymousProcessingFilter.java:125)
	at hudson.security.ChainedServletFilter$1.doFilter(ChainedServletFilter.java:87)
	at org.acegisecurity.ui.rememberme.RememberMeProcessingFilter.doFilter(RememberMeProcessingFilter.java:142)
	at hudson.security.ChainedServletFilter$1.doFilter(ChainedServletFilter.java:87)
	at org.acegisecurity.ui.AbstractProcessingFilter.doFilter(AbstractProcessingFilter.java:271)
	at hudson.security.ChainedServletFilter$1.doFilter(ChainedServletFilter.java:87)
	at jenkins.security.BasicHeaderProcessor.doFilter(BasicHeaderProcessor.java:93)
	at hudson.security.ChainedServletFilter$1.doFilter(ChainedServletFilter.java:87)
	at org.acegisecurity.context.HttpSessionContextIntegrationFilter.doFilter(HttpSessionContextIntegrationFilter.java:249)
	at hudson.security.HttpSessionContextIntegrationFilter2.doFilter(HttpSessionContextIntegrationFilter2.java:67)
	at hudson.security.ChainedServletFilter$1.doFilter(ChainedServletFilter.java:87)
	at hudson.security.ChainedServletFilter.doFilter(ChainedServletFilter.java:90)
	at hudson.security.HudsonFilter.doFilter(HudsonFilter.java:171)
	at org.eclipse.jetty.servlet.ServletHandler$CachedChain.doFilter(ServletHandler.java:1637)
	at org.kohsuke.stapler.compression.CompressionFilter.doFilter(CompressionFilter.java:49)
	at org.eclipse.jetty.servlet.ServletHandler$CachedChain.doFilter(ServletHandler.java:1637)
	at hudson.util.CharacterEncodingFilter.doFilter(CharacterEncodingFilter.java:82)
	at org.eclipse.jetty.servlet.ServletHandler$CachedChain.doFilter(ServletHandler.java:1637)
	at org.kohsuke.stapler.DiagnosticThreadNameFilter.doFilter(DiagnosticThreadNameFilter.java:30)
	at org.eclipse.jetty.servlet.ServletHandler$CachedChain.doFilter(ServletHandler.java:1637)
	at org.eclipse.jetty.servlet.ServletHandler.doHandle(ServletHandler.java:533)
	at org.eclipse.jetty.server.handler.ScopedHandler.handle(ScopedHandler.java:143)
	at org.eclipse.jetty.security.SecurityHandler.handle(SecurityHandler.java:524)
	at org.eclipse.jetty.server.handler.HandlerWrapper.handle(HandlerWrapper.java:132)
	at org.eclipse.jetty.server.handler.ScopedHandler.nextHandle(ScopedHandler.java:190)
	at org.eclipse.jetty.server.session.SessionHandler.doHandle(SessionHandler.java:1595)
	at org.eclipse.jetty.server.handler.ScopedHandler.nextHandle(ScopedHandler.java:188)
	at org.eclipse.jetty.server.handler.ContextHandler.doHandle(ContextHandler.java:1253)
	at org.eclipse.jetty.server.handler.ScopedHandler.nextScope(ScopedHandler.java:168)
	at org.eclipse.jetty.servlet.ServletHandler.doScope(ServletHandler.java:473)
	at org.eclipse.jetty.server.session.SessionHandler.doScope(SessionHandler.java:1564)
	at org.eclipse.jetty.server.handler.ScopedHandler.nextScope(ScopedHandler.java:166)
	at org.eclipse.jetty.server.handler.ContextHandler.doScope(ContextHandler.java:1155)
	at org.eclipse.jetty.server.handler.ScopedHandler.handle(ScopedHandler.java:141)
	at org.eclipse.jetty.server.handler.HandlerWrapper.handle(HandlerWrapper.java:132)
	at org.eclipse.jetty.server.Server.handle(Server.java:564)
	at org.eclipse.jetty.server.HttpChannel.handle(HttpChannel.java:317)
	at org.eclipse.jetty.server.HttpConnection.onFillable(HttpConnection.java:251)
	at org.eclipse.jetty.io.AbstractConnection$ReadCallback.succeeded(AbstractConnection.java:279)
	at org.eclipse.jetty.io.FillInterest.fillable(FillInterest.java:110)
	at org.eclipse.jetty.io.ChannelEndPoint$2.run(ChannelEndPoint.java:124)
	at org.eclipse.jetty.util.thread.Invocable.invokePreferred(Invocable.java:128)
	at org.eclipse.jetty.util.thread.Invocable$InvocableExecutor.invoke(Invocable.java:222)
	at org.eclipse.jetty.util.thread.strategy.EatWhatYouKill.doProduce(EatWhatYouKill.java:294)
	at org.eclipse.jetty.util.thread.strategy.EatWhatYouKill.run(EatWhatYouKill.java:199)
	at winstone.BoundedExecutorService$1.run(BoundedExecutorService.java:77)
	at java.util.concurrent.ThreadPoolExecutor.runWorker(ThreadPoolExecutor.java:1142)
	at java.util.concurrent.ThreadPoolExecutor$Worker.run(ThreadPoolExecutor.java:617)
	at java.lang.Thread.run(Thread.java:745)
Caused by: io.jenkins.blueocean.commons.ServiceException$UnexpectedErrorException: No content to map due to end-of-input
 at [Source: UNKNOWN; line: 1, column: 0]
	at io.jenkins.blueocean.blueocean_bitbucket_pipeline.server.BitbucketServerApi.getDefaultBranch(BitbucketServerApi.java:293)
	at io.jenkins.blueocean.blueocean_bitbucket_pipeline.model.BbRepo.toScmRepository(BbRepo.java:63)
	at io.jenkins.blueocean.blueocean_bitbucket_pipeline.BitbucketRepositoryContainer$BitbucketRepositories.<init>(BitbucketRepositoryContainer.java:82)
	at io.jenkins.blueocean.blueocean_bitbucket_pipeline.BitbucketRepositoryContainer.getRepositories(BitbucketRepositoryContainer.java:41)
	at io.jenkins.blueocean.commons.stapler.export.MethodProperty.getValue(MethodProperty.java:72)
	... 118 more
Caused by: com.fasterxml.jackson.databind.JsonMappingException: No content to map due to end-of-input
 at [Source: UNKNOWN; line: 1, column: 0]
	at com.fasterxml.jackson.databind.JsonMappingException.from(JsonMappingException.java:270)
	at com.fasterxml.jackson.databind.ObjectMapper._initForReading(ObjectMapper.java:3854)
	at com.fasterxml.jackson.databind.ObjectMapper._readMapAndClose(ObjectMapper.java:3799)
	at com.fasterxml.jackson.databind.ObjectMapper.readValue(ObjectMapper.java:2931)
	at io.jenkins.blueocean.blueocean_bitbucket_pipeline.server.BitbucketServerApi.getDefaultBranch(BitbucketServerApi.java:290)
	... 122 more