Bug

Major

Jenkins:
- Core 2.116
- Blue Ocean 1.5.0
- Declarative 1.2.8
- Experimental update center everything else

Client:
- Fedora workstation, updated and running the latest available version of Chrome
Summary
After taking the upgrade to Declarative 1.2.8, previously working Blue Ocean pipelines don't work correctly inside the editor. The editor still works, but the ability to change the agent type has gone missing. This was originally reported as Blue Ocean bug JENKINS-50805.
Steps to recreate
1. Set up Blue Ocean to connect to a previously working Pipeline, or open a preexisting Pipeline.
2. Launch the pipeline editor, and notice that there's no "Agent" settings available: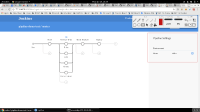 3. In the Jenkins log, you'll see the following InvocationTargetException, caused by a NoSuchMethodException:
Apr 16, 2018 10:29:19 PM org.eclipse.jetty.server.handler.ContextHandler$Context log
WARNING: Error while serving http://172.18.40.95:8080/blue/rest/pipeline-metadata/agentMetadata
java.lang.reflect.InvocationTargetException
	at org.kohsuke.stapler.Function$MethodFunction.invoke(Function.java:347)
	at org.kohsuke.stapler.ForwardingFunction.invoke(ForwardingFunction.java:63)
	at io.jenkins.blueocean.commons.stapler.TreeResponse$Processor.invoke(TreeResponse.java:43)
	at org.kohsuke.stapler.PreInvokeInterceptedFunction.invoke(PreInvokeInterceptedFunction.java:26)
	at org.kohsuke.stapler.Function.bindAndInvoke(Function.java:184)
	at org.kohsuke.stapler.Function.bindAndInvokeAndServeResponse(Function.java:117)
	at org.kohsuke.stapler.MetaClass$1.doDispatch(MetaClass.java:129)
	at org.kohsuke.stapler.NameBasedDispatcher.dispatch(NameBasedDispatcher.java:58)
	at org.kohsuke.stapler.Stapler.tryInvoke(Stapler.java:715)
	at org.kohsuke.stapler.Stapler.invoke(Stapler.java:845)
	at org.kohsuke.stapler.MetaClass$10.dispatch(MetaClass.java:374)
	at org.kohsuke.stapler.Stapler.tryInvoke(Stapler.java:715)
	at org.kohsuke.stapler.Stapler.invoke(Stapler.java:845)
	at org.kohsuke.stapler.MetaClass$10.dispatch(MetaClass.java:374)
	at org.kohsuke.stapler.Stapler.tryInvoke(Stapler.java:715)
	at org.kohsuke.stapler.Stapler.invoke(Stapler.java:845)
	at org.kohsuke.stapler.Stapler.tryInvoke(Stapler.java:686)
	at org.kohsuke.stapler.Stapler.invoke(Stapler.java:845)
	at org.kohsuke.stapler.MetaClass$10.dispatch(MetaClass.java:374)
	at org.kohsuke.stapler.Stapler.tryInvoke(Stapler.java:715)
	at org.kohsuke.stapler.Stapler.invoke(Stapler.java:845)
	at org.kohsuke.stapler.Stapler.invoke(Stapler.java:649)
	at org.kohsuke.stapler.Stapler.service(Stapler.java:238)
	at javax.servlet.http.HttpServlet.service(HttpServlet.java:790)
	at org.eclipse.jetty.servlet.ServletHolder.handle(ServletHolder.java:841)
	at org.eclipse.jetty.servlet.ServletHandler$CachedChain.doFilter(ServletHandler.java:1650)
	at hudson.util.PluginServletFilter$1.doFilter(PluginServletFilter.java:154)
	at org.jenkinsci.plugins.ssegateway.Endpoint$SSEListenChannelFilter.doFilter(Endpoint.java:225)
	at hudson.util.PluginServletFilter$1.doFilter(PluginServletFilter.java:151)
	at io.jenkins.blueocean.ResourceCacheControl.doFilter(ResourceCacheControl.java:134)
	at hudson.util.PluginServletFilter$1.doFilter(PluginServletFilter.java:151)
	at io.jenkins.blueocean.auth.jwt.impl.JwtAuthenticationFilter.doFilter(JwtAuthenticationFilter.java:61)
	at hudson.util.PluginServletFilter$1.doFilter(PluginServletFilter.java:151)
	at hudson.util.PluginServletFilter.doFilter(PluginServletFilter.java:157)
	at org.eclipse.jetty.servlet.ServletHandler$CachedChain.doFilter(ServletHandler.java:1637)
	at hudson.security.csrf.CrumbFilter.doFilter(CrumbFilter.java:105)
	at org.eclipse.jetty.servlet.ServletHandler$CachedChain.doFilter(ServletHandler.java:1637)
	at hudson.security.ChainedServletFilter$1.doFilter(ChainedServletFilter.java:84)
	at hudson.security.UnwrapSecurityExceptionFilter.doFilter(UnwrapSecurityExceptionFilter.java:51)
	at hudson.security.ChainedServletFilter$1.doFilter(ChainedServletFilter.java:87)
	at jenkins.security.ExceptionTranslationFilter.doFilter(ExceptionTranslationFilter.java:117)
	at hudson.security.ChainedServletFilter$1.doFilter(ChainedServletFilter.java:87)
	at org.acegisecurity.providers.anonymous.AnonymousProcessingFilter.doFilter(AnonymousProcessingFilter.java:125)
	at hudson.security.ChainedServletFilter$1.doFilter(ChainedServletFilter.java:87)
	at org.acegisecurity.ui.rememberme.RememberMeProcessingFilter.doFilter(RememberMeProcessingFilter.java:142)
	at hudson.security.ChainedServletFilter$1.doFilter(ChainedServletFilter.java:87)
	at org.acegisecurity.ui.AbstractProcessingFilter.doFilter(AbstractProcessingFilter.java:271)
	at hudson.security.ChainedServletFilter$1.doFilter(ChainedServletFilter.java:87)
	at jenkins.security.BasicHeaderProcessor.doFilter(BasicHeaderProcessor.java:93)
	at hudson.security.ChainedServletFilter$1.doFilter(ChainedServletFilter.java:87)
	at org.acegisecurity.context.HttpSessionContextIntegrationFilter.doFilter(HttpSessionContextIntegrationFilter.java:249)
	at hudson.security.HttpSessionContextIntegrationFilter2.doFilter(HttpSessionContextIntegrationFilter2.java:67)
	at hudson.security.ChainedServletFilter$1.doFilter(ChainedServletFilter.java:87)
	at hudson.security.ChainedServletFilter.doFilter(ChainedServletFilter.java:90)
	at hudson.security.HudsonFilter.doFilter(HudsonFilter.java:171)
	at org.eclipse.jetty.servlet.ServletHandler$CachedChain.doFilter(ServletHandler.java:1637)
	at org.kohsuke.stapler.compression.CompressionFilter.doFilter(CompressionFilter.java:49)
	at org.eclipse.jetty.servlet.ServletHandler$CachedChain.doFilter(ServletHandler.java:1637)
	at hudson.util.CharacterEncodingFilter.doFilter(CharacterEncodingFilter.java:82)
	at org.eclipse.jetty.servlet.ServletHandler$CachedChain.doFilter(ServletHandler.java:1637)
	at org.kohsuke.stapler.DiagnosticThreadNameFilter.doFilter(DiagnosticThreadNameFilter.java:30)
	at org.eclipse.jetty.servlet.ServletHandler$CachedChain.doFilter(ServletHandler.java:1637)
	at org.eclipse.jetty.servlet.ServletHandler.doHandle(ServletHandler.java:533)
	at org.eclipse.jetty.server.handler.ScopedHandler.handle(ScopedHandler.java:143)
	at org.eclipse.jetty.security.SecurityHandler.handle(SecurityHandler.java:524)
	at org.eclipse.jetty.server.handler.HandlerWrapper.handle(HandlerWrapper.java:132)
	at org.eclipse.jetty.server.handler.ScopedHandler.nextHandle(ScopedHandler.java:190)
	at org.eclipse.jetty.server.session.SessionHandler.doHandle(SessionHandler.java:1595)
	at org.eclipse.jetty.server.handler.ScopedHandler.nextHandle(ScopedHandler.java:188)
	at org.eclipse.jetty.server.handler.ContextHandler.doHandle(ContextHandler.java:1253)
	at org.eclipse.jetty.server.handler.ScopedHandler.nextScope(ScopedHandler.java:168)
	at org.eclipse.jetty.servlet.ServletHandler.doScope(ServletHandler.java:473)
	at org.eclipse.jetty.server.session.SessionHandler.doScope(SessionHandler.java:1564)
	at org.eclipse.jetty.server.handler.ScopedHandler.nextScope(ScopedHandler.java:166)
	at org.eclipse.jetty.server.handler.ContextHandler.doScope(ContextHandler.java:1155)
	at org.eclipse.jetty.server.handler.ScopedHandler.handle(ScopedHandler.java:141)
	at org.eclipse.jetty.server.handler.HandlerWrapper.handle(HandlerWrapper.java:132)
	at org.eclipse.jetty.server.Server.handle(Server.java:564)
	at org.eclipse.jetty.server.HttpChannel.handle(HttpChannel.java:317)
	at org.eclipse.jetty.server.HttpConnection.onFillable(HttpConnection.java:251)
	at org.eclipse.jetty.io.AbstractConnection$ReadCallback.succeeded(AbstractConnection.java:279)
	at org.eclipse.jetty.io.FillInterest.fillable(FillInterest.java:110)
	at org.eclipse.jetty.io.ChannelEndPoint$2.run(ChannelEndPoint.java:124)
	at winstone.BoundedExecutorService$1.run(BoundedExecutorService.java:77)
	at java.util.concurrent.ThreadPoolExecutor.runWorker(ThreadPoolExecutor.java:1142)
	at java.util.concurrent.ThreadPoolExecutor$Worker.run(ThreadPoolExecutor.java:617)
	at java.lang.Thread.run(Thread.java:745)
Caused by: java.lang.NoSuchMethodError: org.jenkinsci.plugins.pipeline.modeldefinition.agent.DeclarativeAgentDescriptor.all()Lhudson/ExtensionList;
	at io.blueocean.rest.pipeline.editor.PipelineMetadataService.doAgentMetadata(PipelineMetadataService.java:70)
	at java.lang.invoke.MethodHandle.invokeWithArguments(MethodHandle.java:625)
	at org.kohsuke.stapler.Function$MethodFunction.invoke(Function.java:343)
	... 86 more


While talking it out on Gitter (and while I was in the car), imeredith and vivek wrote about the changed method signature in 1.28:
Old:
public static ExtensionList<DeclarativeAgentDescriptor> all() {
        return ExtensionList.lookup(DeclarativeAgentDescriptor.class);
    }

New:
    public static List<DeclarativeAgentDescriptor> all() {
        ExtensionList<DeclarativeAgentDescriptor> descs = ExtensionList.lookup(DeclarativeAgentDescriptor.class);
        return descs.stream().sorted(Comparator.comparing(DeclarativeAgentDescriptor::getName)).collect(Collectors.toList());
    }

is related to

JENKINS-50805 Jenkins Blue Ocean won't show Agent when creating a Pipeline

Closed
links to