Bug

Blocker

active-choices 1.5, Jenkins 2.19.2, Windows Server 2008 R2
After upgrading to the Active Choices v1.5 jobs originally containing Active Choices v1.4 definitions load and work fine. However, if the configuration of one of these jobs now gets saved (you don't even need to modify it) all parameters to scriptlets used in Active Choices are dropped and the form UI does not render.
See attached screenshot on the parameter definition changes before and after the configuration is changed.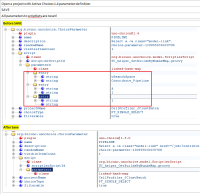 duplicates

JENKINS-39760 Active Choices Parameters lost of Job Config save

Closed
is related to

JENKINS-39534 When Jenkins restarts, the groovy scripts are lost

Closed