Improvement

Minor
Summary:
Blue Ocean can provide links, embedded in table rows, to external sites such as Jira. Automated test(s) should be put in place to verify that these links point to the right place.
Examples of these links can be seen in this screenshot - I've put red boxes around the ones in question.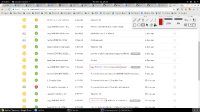 JENKINS 48268 is already merged, and fixes the issue, but it looks like it went in without any tests.
is related to

JENKINS-48268 Embedded issue links (JIRA, GitHub) on multibranch "Branches" tab do not navigate to external site when clicked

Closed