Bug

Critical
When checking out (looking in job's console output), local files are getting not directly to the JobName@script folder but also add a subfolder with name like ecb7a9317b1ad672698830264d9e0ce2b9b6f330c043bb85f48623f3cdcab65e

Checking out git git@...repo.git into /Users/user/.jenkins/workspace/JobName@script/ecb7a9317b1ad672698830264d9e0ce2b9b6f330c043bb85f48623f3cdcab65e/jenkins/A.groovy
Loading the main groovy file here:

Project to build located directly in Job Name folder, without subfolders. But scripts put in subfolder.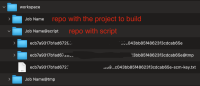 Now, when in A.groovy I am trying to import B.groovy 

load(

"jenkins/B.groovy"

)
or
load(env.WORKSPACE + 

"@script/jenkins/B.groovy"

) 
I am getting an error 

java.nio.file.NoSuchFileException:
/Users/user/.jenkins/workspace/JobName@script/jenkins/B.groovy
And don't see any way to get that subfolder name from environment or other way. Thus just can't load an external file.
relates to

JENKINS-67857 Updated Plugin is creating new directory with random directory name, even while using NullSCM class.

Closed