In the pipeline results screen header for a multibranch project, the last part of the name (ie, just the branch name) is hyperlinked to /activity tab.
This is incorrect, the link to /activity should be one level up - ie the multibranch name itself. Clicking on this should show the activity tab as it is now.
(clicking on the branch name should show a filtered activity list - that is tracked here: https://issues.jenkins-ci.org/browse/JENKINS-38752 but is blocked at this time).
In this screen shot: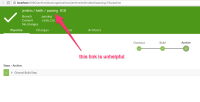 "keith" should be clickable, and show /activity. The branch name "passing" should not link to activity in this way (it needs to be a filtered activity)
In scope:
Shift link to branch name if multibranch
Out of scope:
Making link of branch name point to filtered activity list
relates to

JENKINS-38752 Link to branches activity from breadcrumbs

Resolved