Type: Bug

Priority: Major

Environment:

Jenkins ver. 2.32.2
HTTP Request Plugin 1.8.13
Runs on a Java 1.8 slave
I get this stack trace when I try to request AWS backed urls.
I don't know much about certificates and versions and their implementation but can this be fixed?
I know there are allot of related issues but I don't know if this should be fixed by each plugin or Jenkins?
Details about the certificate: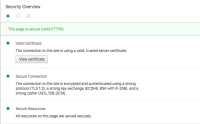 HttpMode: GET
URL: https:

//XXX.execute-api.eu-west-1.amazonaws.com/<url>


Sending request to url: https:

//XXX.execute-api.eu-west-1.amazonaws.com/<url>


FATAL: Received fatal alert: handshake_failure
javax.net.ssl.SSLHandshakeException: Received fatal alert: handshake_failure
	at sun.security.ssl.Alerts.getSSLException(Alerts.java:192)
	at sun.security.ssl.Alerts.getSSLException(Alerts.java:154)
	at sun.security.ssl.SSLSocketImpl.recvAlert(SSLSocketImpl.java:2023)
	at sun.security.ssl.SSLSocketImpl.readRecord(SSLSocketImpl.java:1125)
	at sun.security.ssl.SSLSocketImpl.performInitialHandshake(SSLSocketImpl.java:1375)
	at sun.security.ssl.SSLSocketImpl.startHandshake(SSLSocketImpl.java:1403)
	at sun.security.ssl.SSLSocketImpl.startHandshake(SSLSocketImpl.java:1387)
	at org.apache.http.conn.ssl.SSLSocketFactory.connectSocket(SSLSocketFactory.java:543)
	at org.apache.http.conn.ssl.SSLSocketFactory.connectSocket(SSLSocketFactory.java:409)
	at org.apache.http.impl.conn.DefaultClientConnectionOperator.openConnection(DefaultClientConnectionOperator.java:177)
	at org.apache.http.impl.conn.ManagedClientConnectionImpl.open(ManagedClientConnectionImpl.java:304)
	at org.apache.http.impl.client.DefaultRequestDirector.tryConnect(DefaultRequestDirector.java:611)
	at org.apache.http.impl.client.DefaultRequestDirector.execute(DefaultRequestDirector.java:446)
	at org.apache.http.impl.client.AbstractHttpClient.doExecute(AbstractHttpClient.java:882)
	at org.apache.http.impl.client.CloseableHttpClient.execute(CloseableHttpClient.java:82)
	at jenkins.plugins.http_request.util.HttpClientUtil.execute(HttpClientUtil.java:155)
	at jenkins.plugins.http_request.HttpRequest.performHttpRequest(HttpRequest.java:298)
	at jenkins.plugins.http_request.HttpRequest.perform(HttpRequest.java:239)
	at hudson.tasks.BuildStepMonitor$1.perform(BuildStepMonitor.java:20)
	at hudson.model.AbstractBuild$AbstractBuildExecution.perform(AbstractBuild.java:779)
	at hudson.model.Build$BuildExecution.build(Build.java:205)
	at hudson.model.Build$BuildExecution.doRun(Build.java:162)
	at hudson.model.AbstractBuild$AbstractBuildExecution.run(AbstractBuild.java:534)
	at hudson.model.Run.execute(Run.java:1728)
	at hudson.model.FreeStyleBuild.run(FreeStyleBuild.java:43)
	at hudson.model.ResourceController.execute(ResourceController.java:98)
	at hudson.model.Executor.run(Executor.java:404)
Finished: FAILURE