Type: Bug

Priority: Minor

Environment:

jenkins 2.60.1
Sectioned view plugin 1.23
anything-goes-formatter 1.0
After I upgraded from jenkins 1.654 & Sectioned view plugin 1.20, the title of sections do not render HTML anymore.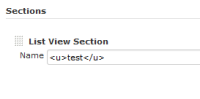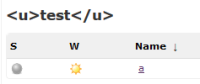 So far I was using SafeHTML as markup formatter in Jenkins' "Global security" settings.
Now that HTML is not rendered anymore, I tried the very permissive "anything-goes-formatter" but still HTML is not rendered.
Looks like Sections title do not use jenkins formatter to render HTML.
Could you look into this and provide a fix maybe or even a workaround?
Thank you
duplicates

JENKINS-44987 List view section name do not resolve <div> tag anymore

Resolved