Type: Bug

Priority: Minor

Environment:

Client:
Fedora Workstation 26, updated at least weekly
Google Chrome Version 60.0.3112.101 (Official Build) (64-bit)

Jenkins server:
Jenkins core 2.74
blueocean-rest 1.2.0-beta-6
blueocean-i18n 1.2.0-beta-6
blueocean-jwt 1.2.0-beta-6
blueocean-config 1.2.0-beta-6
blueocean-rest-impl 1.2.0-beta-6
blueocean-web 1.2.0-beta-6
blueocean-pipeline-editor 0.3.0-beta-5-SNAPSHOT (private-40e85fc1-kshultz) (1.0-alpha-4)
blueocean-autofavorite 1.0.0
blueocean-github-pipeline 1.2.0-beta-6
blueocean-commons 1.2.0-beta-6
blueocean-pipeline-api-impl 1.2.0-beta-6
blueocean-events 1.2.0-beta-6
blueocean-dashboard 1.2.0-beta-6
blueocean-pipeline-scm-api 1.2.0-beta-6
blueocean-personalization 1.2.0-beta-6
blueocean-git-pipeline 1.2.0-beta-6
blueocean-display-url 2.1.0
blueocean-bitbucket-pipeline 1.2.0-beta-6
blueocean 1.2.0-beta-6

Client: Fedora Workstation 26, updated at least weekly Google Chrome Version 60.0.3112.101 (Official Build) (64-bit) Jenkins server: Jenkins core 2.74 blueocean-rest 1.2.0-beta-6 blueocean-i18n 1.2.0-beta-6 blueocean-jwt 1.2.0-beta-6 blueocean-config 1.2.0-beta-6 blueocean-rest-impl 1.2.0-beta-6 blueocean-web 1.2.0-beta-6 blueocean-pipeline-editor 0.3.0-beta-5-SNAPSHOT (private-40e85fc1-kshultz) (1.0-alpha-4) blueocean-autofavorite 1.0.0 blueocean-github-pipeline 1.2.0-beta-6 blueocean-commons 1.2.0-beta-6 blueocean-pipeline-api-impl 1.2.0-beta-6 blueocean-events 1.2.0-beta-6 blueocean-dashboard 1.2.0-beta-6 blueocean-pipeline-scm-api 1.2.0-beta-6 blueocean-personalization 1.2.0-beta-6 blueocean-git-pipeline 1.2.0-beta-6 blueocean-display-url 2.1.0 blueocean-bitbucket-pipeline 1.2.0-beta-6 blueocean 1.2.0-beta-6
Epic Link:

Sprint:

Blue Ocean 1.4 - beta 1, Blue Ocean 1.4 - beta 2
Summary:
When creating a new Pipeline where code is stored on either Bitbucket Server or GitHub Enterprise, if the user tries the Enter key on their keyboard to submit the request, nothing happens.
Steps to recreate:
1. Open Blue Ocean and click "New Pipeline"
2. Select either Bitbucket Server, or GitHub Enterprise.
3. Click "Add" to add a new Bitbucket server.
4. Supply a Server Name
5. Supply a Server URL. After entering the Server URL, press the Enter key on your keyboard, as though you're trying to use that to submit the information.
6. Nothing happens. The only way to get the request submitted is by clicking on the Add Server button.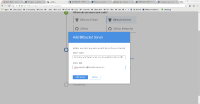 Workaround for keyboard navigation geeks like me:
The user can press the Tab key a single time to bring focus to the Add Server button, and submit his request via the Enter key or the space bar.
It could be that I'm an anachronism, and nobody uses the enter key to submit information in this way anymore...
is related to

JENKINS-47811 Implement keyboard shortcuts in Selenium tests

Open
mentioned in

Page Loading...