Problem
When the path is too long to display, we use an expander component to shorten the path that is displayed. Any folders names in the path are collapsed and a folder icon is shown.
e.g. foo / bar / baz/ Pipeline -> foo / <Folder Icon> / <Folder Icon> / Pipeline
Steps to reproduce
Go to classic and create a deep folder structure
Put a Job at the bottom of the folder structure
Browse to dashboard, you should see the path to the job collapsed with the expander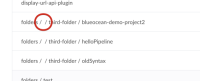 What you should see
Here is the expander in use in the header. It has icons.
! helloPipeline 2017-10-26 09-27-06.png|thumbnail!