Bug

Blocker

Blue Ocean 1.5.0-SNAPSHOT, built from the release/1.5.0 branch of Blue Ocean.
Core 2.73.3
Running via `mvn -f blueocean/pom.xml hpi:run`
Summary
User cannot create a new Pipeline on a Bitbucket Server, using an already-existing repository which does not contain a Jenkinsfile. Attempting to do so results in a 500 error in the browser console. Jenkins itself throws an InvocationTargetException.
Prerequisites
Check out and build the release/1.5.0 branch of blueocean-plugin
Optional: empty your blueocean/work directory. If you do this, you'll need to enable security on your Jenkins, and create a user, because Pipeline creation requires this.
Have a repository available on a Bitbucket server which does not already have a Jenkinsfile in it in any branch. In my case I used a blank one, no branches other than master, with only a README.md inside it.
Steps to recreate
1. Launch your local Jenkins test environment by cd-ing into wherever you cloned to, and running mvn -f blueocean/pom.xml hpi:run
2. Once Jenkins is fully up and running, open Blue Ocean. You'll be prompted to create your first Pipeline. Click the "Create a new Pipeline" button to proceed: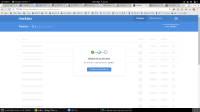 3. Select Bitbucket Server, and supply the correct URL for your server: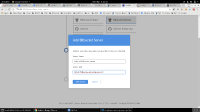 4. Supply correct credentials for your Bitbucket server: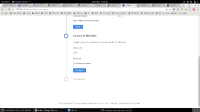 5. Find your empty repository: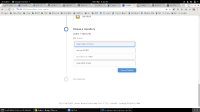 6. You'll be told there aren't any Jenkinsfiles, which is fine, and be taken to the editor: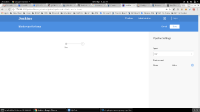 7. Create a pipeline using the editor. I made a fairly simple one: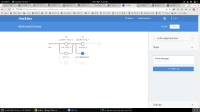 8. Click the Save button, provide a commit message, and leave the default setting of Commit to master: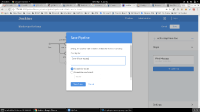 9. Click the Save & run button. You'll see a 500 error almost immediately: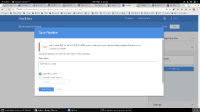 10. Switch back over to the terminal in which you launched Jenkins. Notice the InvocationTargetException which has been thrown:
[WARNING] Error while serving http://127.0.0.1:8080/jenkins/blue/rest/organizations/jenkins/pipelines/blank-repo-for-issue/scm/content/
java.lang.reflect.InvocationTargetException
	at org.kohsuke.stapler.Function$MethodFunction.invoke(Function.java:347)
	at org.kohsuke.stapler.ForwardingFunction.invoke(ForwardingFunction.java:63)
	at io.jenkins.blueocean.commons.stapler.TreeResponse$Processor.invoke(TreeResponse.java:43)
	at org.kohsuke.stapler.PreInvokeInterceptedFunction.invoke(PreInvokeInterceptedFunction.java:26)
	at org.kohsuke.stapler.Function.bindAndInvoke(Function.java:184)
	at org.kohsuke.stapler.Function.bindAndInvokeAndServeResponse(Function.java:117)
	at org.kohsuke.stapler.MetaClass$1.doDispatch(MetaClass.java:129)
	at org.kohsuke.stapler.NameBasedDispatcher.dispatch(NameBasedDispatcher.java:58)
	at org.kohsuke.stapler.Stapler.tryInvoke(Stapler.java:715)
	at org.kohsuke.stapler.Stapler.invoke(Stapler.java:845)
	at org.kohsuke.stapler.MetaClass$3.doDispatch(MetaClass.java:209)
	at org.kohsuke.stapler.NameBasedDispatcher.dispatch(NameBasedDispatcher.java:58)
	at org.kohsuke.stapler.Stapler.tryInvoke(Stapler.java:715)
	at org.kohsuke.stapler.Stapler.invoke(Stapler.java:845)
	at org.kohsuke.stapler.MetaClass$10.dispatch(MetaClass.java:374)
	at org.kohsuke.stapler.Stapler.tryInvoke(Stapler.java:715)
	at org.kohsuke.stapler.Stapler.invoke(Stapler.java:845)
	at org.kohsuke.stapler.MetaClass$3.doDispatch(MetaClass.java:209)
	at org.kohsuke.stapler.NameBasedDispatcher.dispatch(NameBasedDispatcher.java:58)
	at org.kohsuke.stapler.Stapler.tryInvoke(Stapler.java:715)
	at org.kohsuke.stapler.Stapler.invoke(Stapler.java:845)
	at org.kohsuke.stapler.MetaClass$10.dispatch(MetaClass.java:374)
	at org.kohsuke.stapler.Stapler.tryInvoke(Stapler.java:715)
	at org.kohsuke.stapler.Stapler.invoke(Stapler.java:845)
	at org.kohsuke.stapler.MetaClass$10.dispatch(MetaClass.java:374)
	at org.kohsuke.stapler.Stapler.tryInvoke(Stapler.java:715)
	at org.kohsuke.stapler.Stapler.invoke(Stapler.java:845)
	at org.kohsuke.stapler.MetaClass$10.dispatch(MetaClass.java:374)
	at org.kohsuke.stapler.Stapler.tryInvoke(Stapler.java:715)
	at org.kohsuke.stapler.Stapler.invoke(Stapler.java:845)
	at org.kohsuke.stapler.Stapler.tryInvoke(Stapler.java:686)
	at org.kohsuke.stapler.Stapler.invoke(Stapler.java:845)
	at org.kohsuke.stapler.MetaClass$10.dispatch(MetaClass.java:374)
	at org.kohsuke.stapler.Stapler.tryInvoke(Stapler.java:715)
	at org.kohsuke.stapler.Stapler.invoke(Stapler.java:845)
	at org.kohsuke.stapler.Stapler.invoke(Stapler.java:649)
	at org.kohsuke.stapler.Stapler.service(Stapler.java:238)
	at javax.servlet.http.HttpServlet.service(HttpServlet.java:790)
	at org.eclipse.jetty.servlet.ServletHolder.handle(ServletHolder.java:841)
	at org.eclipse.jetty.servlet.ServletHandler$CachedChain.doFilter(ServletHandler.java:1650)
	at hudson.util.PluginServletFilter$1.doFilter(PluginServletFilter.java:135)
	at org.jenkinsci.plugins.ssegateway.Endpoint$SSEListenChannelFilter.doFilter(Endpoint.java:225)
	at hudson.util.PluginServletFilter$1.doFilter(PluginServletFilter.java:132)
	at io.jenkins.blueocean.auth.jwt.impl.JwtAuthenticationFilter.doFilter(JwtAuthenticationFilter.java:61)
	at hudson.util.PluginServletFilter$1.doFilter(PluginServletFilter.java:132)
	at hudson.util.PluginServletFilter.doFilter(PluginServletFilter.java:138)
	at org.eclipse.jetty.servlet.ServletHandler$CachedChain.doFilter(ServletHandler.java:1637)
	at hudson.security.csrf.CrumbFilter.doFilter(CrumbFilter.java:49)
	at org.eclipse.jetty.servlet.ServletHandler$CachedChain.doFilter(ServletHandler.java:1637)
	at hudson.security.ChainedServletFilter$1.doFilter(ChainedServletFilter.java:84)
	at hudson.security.UnwrapSecurityExceptionFilter.doFilter(UnwrapSecurityExceptionFilter.java:51)
	at hudson.security.ChainedServletFilter$1.doFilter(ChainedServletFilter.java:87)
	at jenkins.security.ExceptionTranslationFilter.doFilter(ExceptionTranslationFilter.java:117)
	at hudson.security.ChainedServletFilter$1.doFilter(ChainedServletFilter.java:87)
	at org.acegisecurity.providers.anonymous.AnonymousProcessingFilter.doFilter(AnonymousProcessingFilter.java:125)
	at hudson.security.ChainedServletFilter$1.doFilter(ChainedServletFilter.java:87)
	at org.acegisecurity.ui.rememberme.RememberMeProcessingFilter.doFilter(RememberMeProcessingFilter.java:142)
	at hudson.security.ChainedServletFilter$1.doFilter(ChainedServletFilter.java:87)
	at org.acegisecurity.ui.AbstractProcessingFilter.doFilter(AbstractProcessingFilter.java:271)
	at hudson.security.ChainedServletFilter$1.doFilter(ChainedServletFilter.java:87)
	at jenkins.security.BasicHeaderProcessor.doFilter(BasicHeaderProcessor.java:92)
	at hudson.security.ChainedServletFilter$1.doFilter(ChainedServletFilter.java:87)
	at org.acegisecurity.context.HttpSessionContextIntegrationFilter.doFilter(HttpSessionContextIntegrationFilter.java:249)
	at hudson.security.HttpSessionContextIntegrationFilter2.doFilter(HttpSessionContextIntegrationFilter2.java:67)
	at hudson.security.ChainedServletFilter$1.doFilter(ChainedServletFilter.java:87)
	at hudson.security.ChainedServletFilter.doFilter(ChainedServletFilter.java:90)
	at hudson.security.HudsonFilter.doFilter(HudsonFilter.java:171)
	at org.eclipse.jetty.servlet.ServletHandler$CachedChain.doFilter(ServletHandler.java:1637)
	at org.kohsuke.stapler.compression.CompressionFilter.doFilter(CompressionFilter.java:49)
	at org.eclipse.jetty.servlet.ServletHandler$CachedChain.doFilter(ServletHandler.java:1637)
	at hudson.util.CharacterEncodingFilter.doFilter(CharacterEncodingFilter.java:82)
	at org.eclipse.jetty.servlet.ServletHandler$CachedChain.doFilter(ServletHandler.java:1637)
	at org.kohsuke.stapler.DiagnosticThreadNameFilter.doFilter(DiagnosticThreadNameFilter.java:30)
	at org.eclipse.jetty.servlet.ServletHandler$CachedChain.doFilter(ServletHandler.java:1637)
	at org.eclipse.jetty.servlet.ServletHandler.doHandle(ServletHandler.java:533)
	at org.eclipse.jetty.server.handler.ScopedHandler.handle(ScopedHandler.java:143)
	at org.eclipse.jetty.security.SecurityHandler.handle(SecurityHandler.java:524)
	at org.eclipse.jetty.server.handler.HandlerWrapper.handle(HandlerWrapper.java:132)
	at org.eclipse.jetty.server.handler.ScopedHandler.nextHandle(ScopedHandler.java:190)
	at org.eclipse.jetty.server.session.SessionHandler.doHandle(SessionHandler.java:1595)
	at org.eclipse.jetty.server.handler.ScopedHandler.nextHandle(ScopedHandler.java:188)
	at org.eclipse.jetty.server.handler.ContextHandler.doHandle(ContextHandler.java:1253)
	at org.eclipse.jetty.server.handler.ScopedHandler.nextScope(ScopedHandler.java:168)
	at org.eclipse.jetty.servlet.ServletHandler.doScope(ServletHandler.java:473)
	at org.eclipse.jetty.server.session.SessionHandler.doScope(SessionHandler.java:1564)
	at org.eclipse.jetty.server.handler.ScopedHandler.nextScope(ScopedHandler.java:166)
	at org.eclipse.jetty.server.handler.ContextHandler.doScope(ContextHandler.java:1155)
	at org.eclipse.jetty.server.handler.ScopedHandler.handle(ScopedHandler.java:141)
	at org.eclipse.jetty.server.handler.ContextHandlerCollection.handle(ContextHandlerCollection.java:219)
	at org.eclipse.jetty.server.handler.HandlerCollection.handle(HandlerCollection.java:126)
	at org.eclipse.jetty.server.handler.HandlerWrapper.handle(HandlerWrapper.java:132)
	at org.eclipse.jetty.server.Server.handle(Server.java:564)
	at org.eclipse.jetty.server.HttpChannel.handle(HttpChannel.java:317)
	at org.eclipse.jetty.server.HttpConnection.onFillable(HttpConnection.java:251)
	at org.eclipse.jetty.io.AbstractConnection$ReadCallback.succeeded(AbstractConnection.java:279)
	at org.eclipse.jetty.io.FillInterest.fillable(FillInterest.java:110)
	at org.eclipse.jetty.io.ChannelEndPoint$2.run(ChannelEndPoint.java:124)
	at org.eclipse.jetty.util.thread.Invocable.invokePreferred(Invocable.java:128)
	at org.eclipse.jetty.util.thread.Invocable$InvocableExecutor.invoke(Invocable.java:222)
	at org.eclipse.jetty.util.thread.strategy.EatWhatYouKill.doProduce(EatWhatYouKill.java:294)
	at org.eclipse.jetty.util.thread.strategy.EatWhatYouKill.run(EatWhatYouKill.java:199)
	at org.eclipse.jetty.util.thread.QueuedThreadPool.runJob(QueuedThreadPool.java:672)
	at org.eclipse.jetty.util.thread.QueuedThreadPool$2.run(QueuedThreadPool.java:590)
	at java.lang.Thread.run(Thread.java:748)
Caused by: java.lang.LinkageError: loader constraint violation: when resolving method "org.apache.http.entity.mime.MultipartEntityBuilder.build()Lorg/apache/http/HttpEntity;" the class loader (instance of hudson/ClassicPluginStrategy$AntClassLoader2) of the current class, io/jenkins/blueocean/blueocean_bitbucket_pipeline/server/BitbucketServerApi, and the class loader (instance of hudson/ClassicPluginStrategy$AntClassLoader2) for the method's defining class, org/apache/http/entity/mime/MultipartEntityBuilder, have different Class objects for the type org/apache/http/HttpEntity used in the signature
	at io.jenkins.blueocean.blueocean_bitbucket_pipeline.server.BitbucketServerApi.saveContent(BitbucketServerApi.java:213)
	at io.jenkins.blueocean.blueocean_bitbucket_pipeline.AbstractBitbucketScmContentProvider.saveContent(AbstractBitbucketScmContentProvider.java:125)
	at io.jenkins.blueocean.rest.impl.pipeline.ScmResourceImpl.saveContent(ScmResourceImpl.java:52)
	at java.lang.invoke.MethodHandle.invokeWithArguments(MethodHandle.java:627)
	at org.kohsuke.stapler.Function$MethodFunction.invoke(Function.java:343)
	... 103 more