When I perform a hot reload (by pressing enter in the console), I receive an error(rather a long one) as shown at last. When I reload the configuration's page the console gives some information which might be relevant:
INFO: Introspector : detected classloader change. Dumping cache.
When the configuration page reloads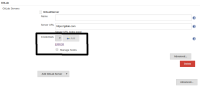 GitLab Server configuration is deleted and when trying to add a new server configuration, the credentials id field is messed up. It doesn't work as expected. When I rerun the plugin with `mvn hpi:run` it works again with the same credentials id I had added earlier. I think Jenkins is having problems with fetching the credentials. Idk the exact problem but I have to see how Gitea Plugin has solved this issue by using `uberclassloader`.
ERROR MESSAGE:
WARNING: Failed to scout com.cloudbees.plugins.credentials.UserCredentialsProvider
java.lang.ExceptionInInitializerError
at java.lang.Class.forName0(Native Method)
at java.lang.Class.forName(Class.java:348)
at hudson.ExtensionFinder$Sezpoz.scout(ExtensionFinder.java:669)
at hudson.ClassicPluginStrategy.findComponents(ClassicPluginStrategy.java:471)
at hudson.ExtensionList.load(ExtensionList.java:365)
at hudson.ExtensionList.ensureLoaded(ExtensionList.java:303)
at hudson.ExtensionList.getComponents(ExtensionList.java:168)
at jenkins.model.Jenkins$8.onInitMilestoneAttained(Jenkins.java:1121)
at jenkins.InitReactorRunner$1.onAttained(InitReactorRunner.java:82)
at org.jvnet.hudson.reactor.ReactorListener$Aggregator.onAttained(ReactorListener.java:104)
at org.jvnet.hudson.reactor.Reactor$1.run(Reactor.java:176)
at org.jvnet.hudson.reactor.Reactor$Node.run(Reactor.java:117)
at java.util.concurrent.ThreadPoolExecutor.runWorker(ThreadPoolExecutor.java:1149)
at java.util.concurrent.ThreadPoolExecutor$Worker.run(ThreadPoolExecutor.java:624)
at java.lang.Thread.run(Thread.java:748)
Caused by: java.lang.IllegalStateException: attempt to register a second PermissionGroup for com.cloudbees.plugins.credentials.CredentialsProvider
at hudson.security.PermissionGroup.register(PermissionGroup.java:139)
at hudson.security.PermissionGroup.<init>(PermissionGroup.java:63)
at com.cloudbees.plugins.credentials.CredentialsProvider.<clinit>(CredentialsProvider.java:135)
... 15 more
May 30, 2019 2:20:06 AM hudson.ExtensionFinder$Sezpoz scout
WARNING: Failed to scout com.cloudbees.plugins.credentials.ViewCredentialsAction$RootActionImpl
java.lang.NoClassDefFoundError: Could not initialize class com.cloudbees.plugins.credentials.CredentialsProvider
at com.cloudbees.plugins.credentials.ViewCredentialsAction.<clinit>(ViewCredentialsAction.java:74)
at java.lang.Class.forName0(Native Method)
at java.lang.Class.forName(Class.java:348)
at hudson.ExtensionFinder$Sezpoz.scout(ExtensionFinder.java:669)
at hudson.ClassicPluginStrategy.findComponents(ClassicPluginStrategy.java:471)
at hudson.ExtensionList.load(ExtensionList.java:365)
at hudson.ExtensionList.ensureLoaded(ExtensionList.java:303)
at hudson.ExtensionList.getComponents(ExtensionList.java:168)
at jenkins.model.Jenkins$8.onInitMilestoneAttained(Jenkins.java:1121)
at jenkins.InitReactorRunner$1.onAttained(InitReactorRunner.java:82)
at org.jvnet.hudson.reactor.ReactorListener$Aggregator.onAttained(ReactorListener.java:104)
at org.jvnet.hudson.reactor.Reactor$1.run(Reactor.java:176)
at org.jvnet.hudson.reactor.Reactor$Node.run(Reactor.java:117)
at java.util.concurrent.ThreadPoolExecutor.runWorker(ThreadPoolExecutor.java:1149)
at java.util.concurrent.ThreadPoolExecutor$Worker.run(ThreadPoolExecutor.java:624)
at java.lang.Thread.run(Thread.java:748)
May 30, 2019 2:20:06 AM hudson.ExtensionFinder$Sezpoz scout
WARNING: Failed to scout com.cloudbees.plugins.credentials.SystemCredentialsProvider$ProviderImpl
java.lang.NoClassDefFoundError: com.cloudbees.plugins.credentials.CredentialsProvider
at java.lang.Class.forName0(Native Method)
at java.lang.Class.forName(Class.java:348)
at hudson.ExtensionFinder$Sezpoz.scout(ExtensionFinder.java:669)
at hudson.ClassicPluginStrategy.findComponents(ClassicPluginStrategy.java:471)
at hudson.ExtensionList.load(ExtensionList.java:365)
at hudson.ExtensionList.ensureLoaded(ExtensionList.java:303)
at hudson.ExtensionList.getComponents(ExtensionList.java:168)
at jenkins.model.Jenkins$8.onInitMilestoneAttained(Jenkins.java:1121)
at jenkins.InitReactorRunner$1.onAttained(InitReactorRunner.java:82)
at org.jvnet.hudson.reactor.ReactorListener$Aggregator.onAttained(ReactorListener.java:104)
at org.jvnet.hudson.reactor.Reactor$1.run(Reactor.java:176)
at org.jvnet.hudson.reactor.Reactor$Node.run(Reactor.java:117)
at java.util.concurrent.ThreadPoolExecutor.runWorker(ThreadPoolExecutor.java:1149)
at java.util.concurrent.ThreadPoolExecutor$Worker.run(ThreadPoolExecutor.java:624)
at java.lang.Thread.run(Thread.java:748)
May 30, 2019 2:20:06 AM hudson.ExtensionFinder$Sezpoz scout
WARNING: Failed to scout com.cloudbees.plugins.credentials.CredentialsSelectHelper
java.lang.NoClassDefFoundError: Could not initialize class com.cloudbees.plugins.credentials.CredentialsProvider
at com.cloudbees.plugins.credentials.CredentialsSelectHelper.<clinit>(CredentialsSelectHelper.java:82)
at java.lang.Class.forName0(Native Method)
at java.lang.Class.forName(Class.java:348)
at hudson.ExtensionFinder$Sezpoz.scout(ExtensionFinder.java:669)
at hudson.ClassicPluginStrategy.findComponents(ClassicPluginStrategy.java:471)
at hudson.ExtensionList.load(ExtensionList.java:365)
at hudson.ExtensionList.ensureLoaded(ExtensionList.java:303)
at hudson.ExtensionList.getComponents(ExtensionList.java:168)
at jenkins.model.Jenkins$8.onInitMilestoneAttained(Jenkins.java:1121)
at jenkins.InitReactorRunner$1.onAttained(InitReactorRunner.java:82)
at org.jvnet.hudson.reactor.ReactorListener$Aggregator.onAttained(ReactorListener.java:104)
at org.jvnet.hudson.reactor.Reactor$1.run(Reactor.java:176)
at org.jvnet.hudson.reactor.Reactor$Node.run(Reactor.java:117)
at java.util.concurrent.ThreadPoolExecutor.runWorker(ThreadPoolExecutor.java:1149)
at java.util.concurrent.ThreadPoolExecutor$Worker.run(ThreadPoolExecutor.java:624)
at java.lang.Thread.run(Thread.java:748)
May 30, 2019 2:20:07 AM hudson.ExtensionFinder$GuiceFinder$SezpozModule configure
WARNING: Failed to load com.cloudbees.plugins.credentials.SystemCredentialsProvider$ProviderImpl
java.lang.NoClassDefFoundError: com.cloudbees.plugins.credentials.CredentialsProvider
at java.lang.Class.getDeclaredConstructors0(Native Method)
at java.lang.Class.privateGetDeclaredConstructors(Class.java:2671)
at java.lang.Class.getConstructors(Class.java:1651)
at hudson.ExtensionFinder$GuiceFinder$SezpozModule.resolve(ExtensionFinder.java:476)
at hudson.ExtensionFinder$GuiceFinder$SezpozModule.configure(ExtensionFinder.java:506)
at com.google.inject.AbstractModule.configure(AbstractModule.java:62)
at com.google.inject.spi.Elements$RecordingBinder.install(Elements.java:340)
at com.google.inject.spi.Elements.getElements(Elements.java:110)
at com.google.inject.internal.InjectorShell$Builder.build(InjectorShell.java:138)
at com.google.inject.internal.InternalInjectorCreator.build(InternalInjectorCreator.java:104)
at com.google.inject.Guice.createInjector(Guice.java:96)
at com.google.inject.Guice.createInjector(Guice.java:73)
at hudson.ExtensionFinder$GuiceFinder.<init>(ExtensionFinder.java:280)
at sun.reflect.NativeConstructorAccessorImpl.newInstance0(Native Method)
at sun.reflect.NativeConstructorAccessorImpl.newInstance(NativeConstructorAccessorImpl.java:62)
at sun.reflect.DelegatingConstructorAccessorImpl.newInstance(DelegatingConstructorAccessorImpl.java:45)
at java.lang.reflect.Constructor.newInstance(Constructor.java:423)
at java.lang.Class.newInstance(Class.java:442)
at net.java.sezpoz.IndexItem.instance(IndexItem.java:181)
at hudson.ExtensionFinder$Sezpoz._find(ExtensionFinder.java:634)
at hudson.ExtensionFinder$Sezpoz.find(ExtensionFinder.java:609)
at hudson.ClassicPluginStrategy.findComponents(ClassicPluginStrategy.java:477)
at hudson.ExtensionList.load(ExtensionList.java:365)
at hudson.ExtensionList.ensureLoaded(ExtensionList.java:303)
at hudson.ExtensionList.getComponents(ExtensionList.java:168)
at jenkins.model.Jenkins$8.onInitMilestoneAttained(Jenkins.java:1121)
at jenkins.InitReactorRunner$1.onAttained(InitReactorRunner.java:82)
at org.jvnet.hudson.reactor.ReactorListener$Aggregator.onAttained(ReactorListener.java:104)
at org.jvnet.hudson.reactor.Reactor$1.run(Reactor.java:176)
at org.jvnet.hudson.reactor.Reactor$Node.run(Reactor.java:117)
at java.util.concurrent.ThreadPoolExecutor.runWorker(ThreadPoolExecutor.java:1149)
at java.util.concurrent.ThreadPoolExecutor$Worker.run(ThreadPoolExecutor.java:624)
at java.lang.Thread.run(Thread.java:748)
May 30, 2019 2:20:07 AM jenkins.InitReactorRunner$1 onAttained
INFO: Prepared all plugins
May 30, 2019 2:20:07 AM jenkins.InitReactorRunner$1 onAttained
INFO: Started all plugins
May 30, 2019 2:20:07 AM jenkins.model.Jenkins$7 runTask
WARNING: ReplayAction.ensurePermissionRegistered failed perhaps due to plugin dependency issues
java.lang.ExceptionInInitializerError
at sun.reflect.NativeMethodAccessorImpl.invoke0(Native Method)
at sun.reflect.NativeMethodAccessorImpl.invoke(NativeMethodAccessorImpl.java:62)
at sun.reflect.DelegatingMethodAccessorImpl.invoke(DelegatingMethodAccessorImpl.java:43)
at java.lang.reflect.Method.invoke(Method.java:498)
at hudson.init.TaskMethodFinder.invoke(TaskMethodFinder.java:104)
at hudson.init.TaskMethodFinder$TaskImpl.run(TaskMethodFinder.java:175)
at org.jvnet.hudson.reactor.Reactor.runTask(Reactor.java:282)
at jenkins.model.Jenkins$7.runTask(Jenkins.java:1090)
at org.jvnet.hudson.reactor.Reactor$2.run(Reactor.java:210)
at org.jvnet.hudson.reactor.Reactor$Node.run(Reactor.java:117)
at java.util.concurrent.ThreadPoolExecutor.runWorker(ThreadPoolExecutor.java:1149)
at java.util.concurrent.ThreadPoolExecutor$Worker.run(ThreadPoolExecutor.java:624)
at java.lang.Thread.run(Thread.java:748)
Caused by: java.lang.IllegalStateException: attempt to register a second Permission for hudson.model.Run.Replay
at hudson.security.PermissionGroup.add(PermissionGroup.java:76)
at hudson.security.Permission.<init>(Permission.java:162)
at hudson.security.Permission.<init>(Permission.java:168)
at org.jenkinsci.plugins.workflow.cps.replay.ReplayAction.<clinit>(ReplayAction.java:294)
... 13 more
May 30, 2019 2:20:07 AM jenkins.InitReactorRunner$1 onAttained
INFO: Augmented all extensions
May 30, 2019 2:20:07 AM hudson.ExtensionFinder$GuiceFinder$FaultTolerantScope$1 error
WARNING: Failed to instantiate Key[type=com.cloudbees.plugins.credentials.UserCredentialsProvider, annotation=[none]]; skipping this component
java.lang.NoClassDefFoundError: Could not initialize class com.cloudbees.plugins.credentials.UserCredentialsProvider
at com.cloudbees.plugins.credentials.UserCredentialsProvider$$FastClassByGuice$$d26efc2d.newInstance(<generated>)
at com.google.inject.internal.cglib.reflect.$FastConstructor.newInstance(FastConstructor.java:40)
at com.google.inject.internal.DefaultConstructionProxyFactory$1.newInstance(DefaultConstructionProxyFactory.java:61)
at com.google.inject.internal.ConstructorInjector.provision(ConstructorInjector.java:105)
at com.google.inject.internal.ConstructorInjector.construct(ConstructorInjector.java:85)
at com.google.inject.internal.ConstructorBindingImpl$Factory.get(ConstructorBindingImpl.java:267)
at com.google.inject.internal.ProviderToInternalFactoryAdapter$1.call(ProviderToInternalFactoryAdapter.java:46)
at com.google.inject.internal.InjectorImpl.callInContext(InjectorImpl.java:1103)
at com.google.inject.internal.ProviderToInternalFactoryAdapter.get(ProviderToInternalFactoryAdapter.java:40)
at com.google.inject.internal.SingletonScope$1.get(SingletonScope.java:145)
at hudson.ExtensionFinder$GuiceFinder$FaultTolerantScope$1.get(ExtensionFinder.java:424)
at com.google.inject.internal.InternalFactoryToProviderAdapter.get(InternalFactoryToProviderAdapter.java:41)
at com.google.inject.internal.InjectorImpl$2$1.call(InjectorImpl.java:1016)
at com.google.inject.internal.InjectorImpl.callInContext(InjectorImpl.java:1092)
at com.google.inject.internal.InjectorImpl$2.get(InjectorImpl.java:1012)
at hudson.ExtensionFinder$GuiceFinder._find(ExtensionFinder.java:386)
at hudson.ExtensionFinder$GuiceFinder.find(ExtensionFinder.java:377)
at hudson.ClassicPluginStrategy.findComponents(ClassicPluginStrategy.java:477)
at hudson.ExtensionList.load(ExtensionList.java:365)
at hudson.ExtensionList.ensureLoaded(ExtensionList.java:303)
at hudson.ExtensionList.iterator(ExtensionList.java:157)
at hudson.diagnosis.NullIdDescriptorMonitor.verify(NullIdDescriptorMonitor.java:72)
at sun.reflect.NativeMethodAccessorImpl.invoke0(Native Method)
at sun.reflect.NativeMethodAccessorImpl.invoke(NativeMethodAccessorImpl.java:62)
at sun.reflect.DelegatingMethodAccessorImpl.invoke(DelegatingMethodAccessorImpl.java:43)
at java.lang.reflect.Method.invoke(Method.java:498)
at hudson.init.TaskMethodFinder.invoke(TaskMethodFinder.java:104)
at hudson.init.TaskMethodFinder$TaskImpl.run(TaskMethodFinder.java:175)
at org.jvnet.hudson.reactor.Reactor.runTask(Reactor.java:282)
at jenkins.model.Jenkins$7.runTask(Jenkins.java:1090)
at org.jvnet.hudson.reactor.Reactor$2.run(Reactor.java:210)
at org.jvnet.hudson.reactor.Reactor$Node.run(Reactor.java:117)
at java.util.concurrent.ThreadPoolExecutor.runWorker(ThreadPoolExecutor.java:1149)
at java.util.concurrent.ThreadPoolExecutor$Worker.run(ThreadPoolExecutor.java:624)
at java.lang.Thread.run(Thread.java:748)
May 30, 2019 2:20:07 AM hudson.ExtensionFinder$GuiceFinder$FaultTolerantScope$1 error
WARNING: Failed to instantiate Key[type=com.cloudbees.plugins.credentials.CredentialsSelectHelper, annotation=[none]]; skipping this component
java.lang.NoClassDefFoundError: Could not initialize class com.cloudbees.plugins.credentials.CredentialsSelectHelper
at com.cloudbees.plugins.credentials.CredentialsSelectHelper$$FastClassByGuice$$1aa591d1.newInstance(<generated>)
at com.google.inject.internal.cglib.reflect.$FastConstructor.newInstance(FastConstructor.java:40)
at com.google.inject.internal.DefaultConstructionProxyFactory$1.newInstance(DefaultConstructionProxyFactory.java:61)
at com.google.inject.internal.ConstructorInjector.provision(ConstructorInjector.java:105)
at com.google.inject.internal.ConstructorInjector.construct(ConstructorInjector.java:85)
at com.google.inject.internal.ConstructorBindingImpl$Factory.get(ConstructorBindingImpl.java:267)
at com.google.inject.internal.ProviderToInternalFactoryAdapter$1.call(ProviderToInternalFactoryAdapter.java:46)
at com.google.inject.internal.InjectorImpl.callInContext(InjectorImpl.java:1103)
at com.google.inject.internal.ProviderToInternalFactoryAdapter.get(ProviderToInternalFactoryAdapter.java:40)
at com.google.inject.internal.SingletonScope$1.get(SingletonScope.java:145)
at hudson.ExtensionFinder$GuiceFinder$FaultTolerantScope$1.get(ExtensionFinder.java:424)
at com.google.inject.internal.InternalFactoryToProviderAdapter.get(InternalFactoryToProviderAdapter.java:41)
at com.google.inject.internal.InjectorImpl$2$1.call(InjectorImpl.java:1016)
at com.google.inject.internal.InjectorImpl.callInContext(InjectorImpl.java:1092)
at com.google.inject.internal.InjectorImpl$2.get(InjectorImpl.java:1012)
at hudson.ExtensionFinder$GuiceFinder._find(ExtensionFinder.java:386)
at hudson.ExtensionFinder$GuiceFinder.find(ExtensionFinder.java:377)
at hudson.ClassicPluginStrategy.findComponents(ClassicPluginStrategy.java:477)
at hudson.ExtensionList.load(ExtensionList.java:365)
at hudson.ExtensionList.ensureLoaded(ExtensionList.java:303)
at hudson.ExtensionList.iterator(ExtensionList.java:157)
at hudson.diagnosis.NullIdDescriptorMonitor.verify(NullIdDescriptorMonitor.java:72)
at sun.reflect.NativeMethodAccessorImpl.invoke0(Native Method)
at sun.reflect.NativeMethodAccessorImpl.invoke(NativeMethodAccessorImpl.java:62)
at sun.reflect.DelegatingMethodAccessorImpl.invoke(DelegatingMethodAccessorImpl.java:43)
at java.lang.reflect.Method.invoke(Method.java:498)
at hudson.init.TaskMethodFinder.invoke(TaskMethodFinder.java:104)
at hudson.init.TaskMethodFinder$TaskImpl.run(TaskMethodFinder.java:175)
at org.jvnet.hudson.reactor.Reactor.runTask(Reactor.java:282)
at jenkins.model.Jenkins$7.runTask(Jenkins.java:1090)
at org.jvnet.hudson.reactor.Reactor$2.run(Reactor.java:210)
at org.jvnet.hudson.reactor.Reactor$Node.run(Reactor.java:117)
at java.util.concurrent.ThreadPoolExecutor.runWorker(ThreadPoolExecutor.java:1149)
at java.util.concurrent.ThreadPoolExecutor$Worker.run(ThreadPoolExecutor.java:624)
at java.lang.Thread.run(Thread.java:748)
May 30, 2019 2:20:08 AM jenkins.InitReactorRunner$1 onAttained
INFO: Loaded all jobs
May 30, 2019 2:20:08 AM hudson.model.AsyncPeriodicWork$1 run
INFO: Started Download metadata
May 30, 2019 2:20:08 AM hudson.model.AsyncPeriodicWork$1 run
INFO: Finished Download metadata. 46 ms
May 30, 2019 2:20:08 AM hudson.ExtensionFinder$GuiceFinder$FaultTolerantScope$1 error
WARNING: Failed to instantiate Key[type=com.cloudbees.plugins.credentials.SystemCredentialsProvider, annotation=[none]]; skipping this component
com.google.inject.ProvisionException: Unable to provision, see the following errors:
1) Error injecting constructor, java.lang.NoClassDefFoundError: Could not initialize class com.cloudbees.plugins.credentials.CredentialsProvider
at com.cloudbees.plugins.credentials.SystemCredentialsProvider.<init>(SystemCredentialsProvider.java:108)
1 error
at com.google.inject.internal.ProviderToInternalFactoryAdapter.get(ProviderToInternalFactoryAdapter.java:52)
at com.google.inject.internal.SingletonScope$1.get(SingletonScope.java:145)
at hudson.ExtensionFinder$GuiceFinder$FaultTolerantScope$1.get(ExtensionFinder.java:424)
at com.google.inject.internal.InternalFactoryToProviderAdapter.get(InternalFactoryToProviderAdapter.java:41)
at com.google.inject.internal.InjectorImpl$2$1.call(InjectorImpl.java:1016)
at com.google.inject.internal.InjectorImpl.callInContext(InjectorImpl.java:1092)
at com.google.inject.internal.InjectorImpl$2.get(InjectorImpl.java:1012)
at hudson.ExtensionFinder$GuiceFinder._find(ExtensionFinder.java:386)
at hudson.ExtensionFinder$GuiceFinder.find(ExtensionFinder.java:377)
at hudson.ClassicPluginStrategy.findComponents(ClassicPluginStrategy.java:477)
at hudson.ExtensionList.load(ExtensionList.java:365)
at hudson.ExtensionList.ensureLoaded(ExtensionList.java:303)
at hudson.ExtensionList.iterator(ExtensionList.java:157)
at hudson.ExtensionList.get(ExtensionList.java:148)
at com.cloudbees.plugins.credentials.SystemCredentialsProvider.getInstance(SystemCredentialsProvider.java:145)
at com.cloudbees.plugins.credentials.SystemCredentialsProvider.forceLoadDuringStartup(SystemCredentialsProvider.java:126)
at sun.reflect.NativeMethodAccessorImpl.invoke0(Native Method)
at sun.reflect.NativeMethodAccessorImpl.invoke(NativeMethodAccessorImpl.java:62)
at sun.reflect.DelegatingMethodAccessorImpl.invoke(DelegatingMethodAccessorImpl.java:43)
at java.lang.reflect.Method.invoke(Method.java:498)
at hudson.init.TaskMethodFinder.invoke(TaskMethodFinder.java:104)
at hudson.init.TaskMethodFinder$TaskImpl.run(TaskMethodFinder.java:175)
at org.jvnet.hudson.reactor.Reactor.runTask(Reactor.java:282)
at jenkins.model.Jenkins$7.runTask(Jenkins.java:1090)
at org.jvnet.hudson.reactor.Reactor$2.run(Reactor.java:210)
at org.jvnet.hudson.reactor.Reactor$Node.run(Reactor.java:117)
at java.util.concurrent.ThreadPoolExecutor.runWorker(ThreadPoolExecutor.java:1149)
at java.util.concurrent.ThreadPoolExecutor$Worker.run(ThreadPoolExecutor.java:624)
at java.lang.Thread.run(Thread.java:748)
Caused by: java.lang.NoClassDefFoundError: Could not initialize class com.cloudbees.plugins.credentials.CredentialsProvider
at com.cloudbees.plugins.credentials.CredentialsStoreAction.<clinit>(CredentialsStoreAction.java:116)
at com.cloudbees.plugins.credentials.SystemCredentialsProvider$StoreImpl.<init>(SystemCredentialsProvider.java:494)
at com.cloudbees.plugins.credentials.SystemCredentialsProvider.<init>(SystemCredentialsProvider.java:102)
at com.cloudbees.plugins.credentials.SystemCredentialsProvider$$FastClassByGuice$$ed8ee489.newInstance(<generated>)
at com.google.inject.internal.cglib.reflect.$FastConstructor.newInstance(FastConstructor.java:40)
at com.google.inject.internal.DefaultConstructionProxyFactory$1.newInstance(DefaultConstructionProxyFactory.java:61)
at com.google.inject.internal.ConstructorInjector.provision(ConstructorInjector.java:105)
at com.google.inject.internal.ConstructorInjector.construct(ConstructorInjector.java:85)
at com.google.inject.internal.ConstructorBindingImpl$Factory.get(ConstructorBindingImpl.java:267)
at com.google.inject.internal.ProviderToInternalFactoryAdapter$1.call(ProviderToInternalFactoryAdapter.java:46)
at com.google.inject.internal.InjectorImpl.callInContext(InjectorImpl.java:1103)
at com.google.inject.internal.ProviderToInternalFactoryAdapter.get(ProviderToInternalFactoryAdapter.java:40)
... 28 more
May 30, 2019 2:20:08 AM jenkins.InitReactorRunner$1 onAttained
INFO: Completed initialization
May 30, 2019 2:20:08 AM hudson.ExtensionFinder$GuiceFinder$FaultTolerantScope$1 error
WARNING: Failed to instantiate Key[type=com.cloudbees.plugins.credentials.ViewCredentialsAction$RootActionImpl, annotation=[none]]; skipping this component
java.lang.NoClassDefFoundError: Could not initialize class com.cloudbees.plugins.credentials.ViewCredentialsAction$RootActionImpl
at com.cloudbees.plugins.credentials.ViewCredentialsAction$RootActionImpl$$FastClassByGuice$$7a233264.newInstance(<generated>)
at com.google.inject.internal.cglib.reflect.$FastConstructor.newInstance(FastConstructor.java:40)
at com.google.inject.internal.DefaultConstructionProxyFactory$1.newInstance(DefaultConstructionProxyFactory.java:61)
at com.google.inject.internal.ConstructorInjector.provision(ConstructorInjector.java:105)
at com.google.inject.internal.ConstructorInjector.construct(ConstructorInjector.java:85)
at com.google.inject.internal.ConstructorBindingImpl$Factory.get(ConstructorBindingImpl.java:267)
at com.google.inject.internal.ProviderToInternalFactoryAdapter$1.call(ProviderToInternalFactoryAdapter.java:46)
at com.google.inject.internal.InjectorImpl.callInContext(InjectorImpl.java:1103)
at com.google.inject.internal.ProviderToInternalFactoryAdapter.get(ProviderToInternalFactoryAdapter.java:40)
at com.google.inject.internal.SingletonScope$1.get(SingletonScope.java:145)
at hudson.ExtensionFinder$GuiceFinder$FaultTolerantScope$1.get(ExtensionFinder.java:424)
at com.google.inject.internal.InternalFactoryToProviderAdapter.get(InternalFactoryToProviderAdapter.java:41)
at com.google.inject.internal.InjectorImpl$2$1.call(InjectorImpl.java:1016)
at com.google.inject.internal.InjectorImpl.callInContext(InjectorImpl.java:1092)
at com.google.inject.internal.InjectorImpl$2.get(InjectorImpl.java:1012)
at hudson.ExtensionFinder$GuiceFinder._find(ExtensionFinder.java:386)
at hudson.ExtensionFinder$GuiceFinder.find(ExtensionFinder.java:377)
at hudson.ClassicPluginStrategy.findComponents(ClassicPluginStrategy.java:477)
at hudson.ExtensionList.load(ExtensionList.java:365)
at hudson.ExtensionList.ensureLoaded(ExtensionList.java:303)
at hudson.ExtensionList.iterator(ExtensionList.java:157)
at jenkins.model.Jenkins$19.run(Jenkins.java:3188)
at org.jvnet.hudson.reactor.TaskGraphBuilder$TaskImpl.run(TaskGraphBuilder.java:169)
at org.jvnet.hudson.reactor.Reactor.runTask(Reactor.java:282)
at jenkins.model.Jenkins$7.runTask(Jenkins.java:1090)
at org.jvnet.hudson.reactor.Reactor$2.run(Reactor.java:210)
at org.jvnet.hudson.reactor.Reactor$Node.run(Reactor.java:117)
at java.util.concurrent.ThreadPoolExecutor.runWorker(ThreadPoolExecutor.java:1149)
at java.util.concurrent.ThreadPoolExecutor$Worker.run(ThreadPoolExecutor.java:624)
at java.lang.Thread.run(Thread.java:748)
}}