Bug

Minor

Jenkins 2.222.1
Git plugin 4.2.2
Git client plugin 3.2.1
The git client plugin global configuration section allows the user to define git implementations which are then used as tools. One of the fields is "Path". When that field has the simple name 'git', it should find command line git on the system path.
The error message reports that git cannot be found on the path, yet git works great on that machine and is definitely found on the path.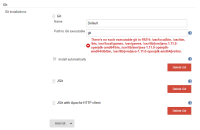 Users may continue to use command line git in this configuration, they can ignore the incorrect warning message from the dialog.