Improvement

Minor

Jenkins 2.243
artifact-manager-s3 v1.11
Minio server RELEASE.2020-07-02T00-15-09Z
Ubuntu Server 18.04
Hello.
When I click job to browse archive files, I found that jenkins was waiting for the response. I waited a few seconds to see the archive files,The more archives, the longer I have to wait..
I think it may be time-consuming to wait for the bucket content.
Location: China(beijing),Jenkins and minio are on the intranet..
Jenkins Logging: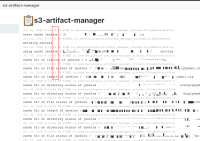 Jenkins S3 Configuration