Type: Bug

Priority: Minor

Labels:
Jenkins recently changed the name of the root breadbrumb from "Jenkins" to "Dashboard"
but this is confusing. whilst the root view may be a dashboard, it is also not the only dashboard. all the views / folders are really dashboards and there is nothing special about the root page that means it should be called the Dashboard (additionally plugins may create a special views that users also refer to as a dashboard).
Another issue is context menus here apply to Jenkins instance not a "dashboard" - the drop downs for "Manage Jenkins" (or other actions applicable to Jenkins) on a "Dashboard" is just weird.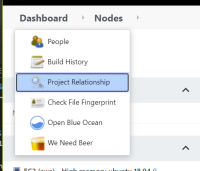 the name should be reverted or changed to something that is not confusing
is caused by

JENKINS-60972 Rename the root breadcrumb

Closed