Currently the listing of support files you can download or delete is unordered, and when you have many it is hard to find the exact one you want.
the listing should be ordered (most likely alphabetically as things tend to have datetime stamps in the file name, but possibly last modified timestamp).
e.g. notice in the screenshot that the bundles go from 2021 to 2020 and back a few times with normal log files inbetween.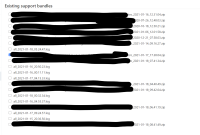 duplicates

JENKINS-64558 Sort the list of bundles

Open