Bug

Major
Every patch set being reported as a distinct change surely must not be the intended behaviour?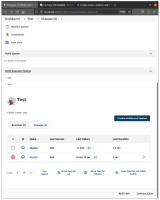 I would have expected the desired behaviour would be for all builds for one change (above this would be 03/3) to be grouped rather than invalidating the "change" for the previous patch set and creating a brand new one.
This way there will only ever be one build per "change"- that doesn't seem correct to me.
Apologies if this is already configurable and I've managed to miss it in the settings or documentation - I swear I can't see anything relevant anywhere.