Bug

Major

Jenkins 2.339 JDK11 docker image, Blue Ocean 1.25.3, Bitbucket Branch Source 757.vddedc5f2589a_
After creating a completely fresh docker setup of jenkins + blue ocean and trying to use Bitbucket Cloud as source for the first pipeline the following error occurs:
Unknown Error
An unknown error has occurred. You may try again.
Message: Not Found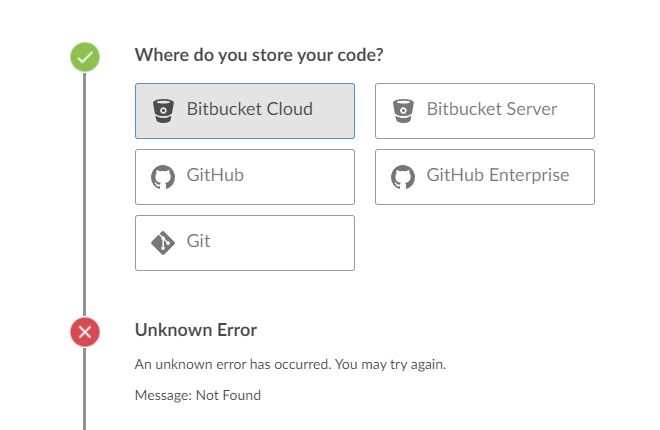 Credentials are correct, consisting of username (not email) and app password with full access to all features.
Jenkins Log does not show any message.
Environment:
Jenkins: 2.339
OS: Linux - 5.10.60.1-microsoft-standard-WSL2
—
ace-editor:1.1
android-emulator:3.1.3
android-signing:2.2.5
ant:1.13
antisamy-markup-formatter:2.7
apache-httpcomponents-client-4-api:4.5.13-1.0
authentication-tokens:1.4
blueocean:1.25.3
blueocean-autofavorite:1.2.5
blueocean-bitbucket-pipeline:1.25.3
blueocean-commons:1.25.3
blueocean-config:1.25.3
blueocean-core-js:1.25.3
blueocean-dashboard:1.25.3
blueocean-display-url:2.4.1
blueocean-events:1.25.3
blueocean-git-pipeline:1.25.3
blueocean-github-pipeline:1.25.3
blueocean-i18n:1.25.3
blueocean-jwt:1.25.3
blueocean-personalization:1.25.3
blueocean-pipeline-api-impl:1.25.3
blueocean-pipeline-editor:1.25.3
blueocean-pipeline-scm-api:1.25.3
blueocean-rest:1.25.3
blueocean-rest-impl:1.25.3
blueocean-web:1.25.3
bootstrap4-api:4.6.0-3
bootstrap5-api:5.1.3-6
bouncycastle-api:2.25
branch-api:2.7.0
build-timeout:1.20
caffeine-api:2.9.2-29.v717aac953ff3
checks-api:1.7.2
cloudbees-bitbucket-branch-source:757.vddedc5f2589a_
cloudbees-folder:6.708.ve61636eb_65a_5
command-launcher:1.6
credentials:1074.v60e6c29b_b_44b_
credentials-binding:1.27.1
display-url-api:2.3.5
docker-commons:1.19
docker-workflow:1.28
durable-task:493.v195aefbb0ff2
echarts-api:5.3.0-2
email-ext:2.87
external-monitor-job:191.v363d0d1efdf8
favorite:2.4.1
font-awesome-api:6.0.0-1
git:4.10.3
git-client:3.11.0
git-server:1.10
github:1.34.3
github-api:1.301-378.v9807bd746da5
github-branch-source:1583.v18d333ef7379
google-oauth-plugin:1.0.6
google-play-android-publisher:4.2
gradle:1.38
handlebars:3.0.8
handy-uri-templates-2-api:2.1.8-1.0
htmlpublisher:1.29
jackson2-api:2.13.2-260.v43d711474c77
javadoc:217.v905b_86277a_2a_
javax-activation-api:1.2.0-2
javax-mail-api:1.6.2-5
jaxb:2.3.0.1
jdk-tool:1.5
jenkins-design-language:1.25.3
jjwt-api:0.11.2-9.c8b45b8bb173
jnr-posix-api:3.1.7-3
jquery3-api:3.6.0-2
jsch:0.1.55.2
junit:1.56
ldap:2.8
lockable-resources:2.14
mailer:408.vd726a_1130320
matrix-auth:3.1
matrix-project:758.v7a_ea_491852f3
momentjs:1.1.1
oauth-credentials:0.5
okhttp-api:4.9.3-105.vb96869f8ac3a
pam-auth:1.7
pipeline-build-step:2.16
pipeline-github-lib:36.v4c01db_ca_ed16
pipeline-graph-analysis:188.v3a01e7973f2c
pipeline-input-step:446.vf27b_0b_83500e
pipeline-milestone-step:100.v60a_03cd446e1
pipeline-model-api:2.2064.v5eef7d0982b_e
pipeline-model-definition:2.2064.v5eef7d0982b_e
pipeline-model-extensions:2.2064.v5eef7d0982b_e
pipeline-rest-api:2.23
pipeline-stage-step:291.vf0a8a7aeeb50
pipeline-stage-tags-metadata:2.2064.v5eef7d0982b_e
pipeline-stage-view:2.23
plain-credentials:1.8
plugin-util-api:2.14.0
popper-api:1.16.1-2
popper2-api:2.11.2-1
port-allocator:1.8
pubsub-light:1.16
resource-disposer:0.17
scm-api:595.vd5a_df5eb_0e39
script-security:1140.vf967fb_efa_55a_
snakeyaml-api:1.29.1
sse-gateway:1.25
ssh-credentials:1.19
ssh-slaves:1.806.v2253cedd3295
sshd:3.1.0
structs:308.v852b473a2b8c
timestamper:1.17
token-macro:280.v97a_82642793c
trilead-api:1.0.13
variant:1.4
windows-slaves:1.8
workflow-aggregator:2.7
workflow-api:1143.v2d42f1e9dea_5
workflow-basic-steps:941.vdfe1b_a_132c64
workflow-cps:2660.vb_c0412dc4e6d
workflow-cps-global-lib:564.ve62a_4eb_b_e039
workflow-durable-task-step:1121.va_65b_d2701486
workflow-job:1174.vdcb_d054cf74a_
workflow-multibranch:711.vdfef37cda_816
workflow-scm-step:2.13
workflow-step-api:622.vb_8e7c15b_c95a_
workflow-support:815.vd60466279fc8
ws-cleanup:0.40