Desired behaviour
Duration should be 20s for the whole pipeline.
ed1 node duration should be 20s
ed2 node duration should be 10s
Undesired behaviour
Duration should be 20s for the whole pipeline.
ed1 node duration should be 20s
ed2 node duration should be 10s but is reported as 20s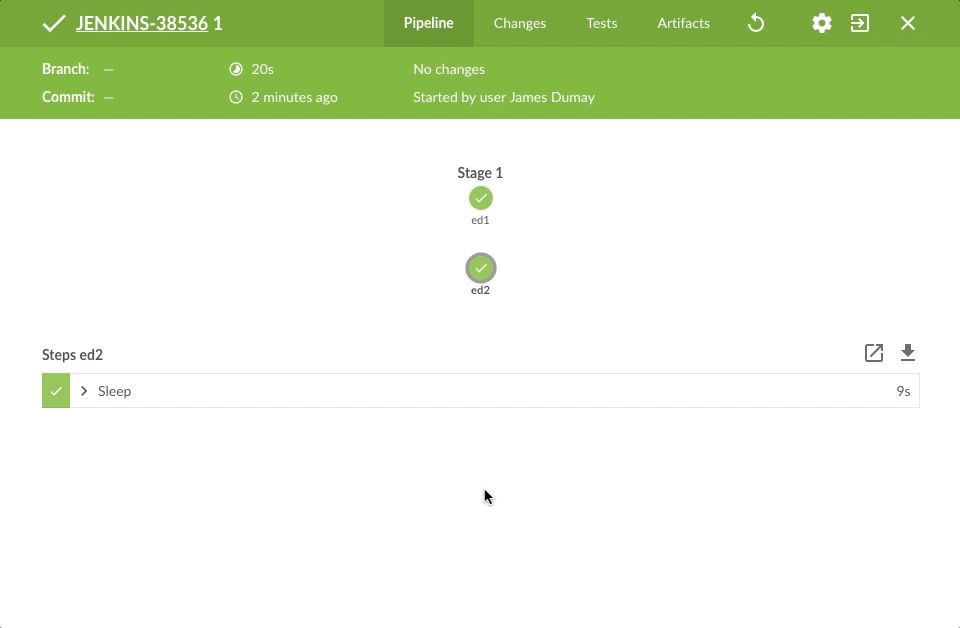 Example
def map = [:]

map[

'ed1'

] = {
    node() {
        sleep 20
    }
}

map[

'ed2'

] = {
    node() {
        sleep 10
    }
}

stage(

'Stage 1'

) {
    parallel map
}

Original request
Hi,
the execution time of a stage containing two parallel jobs shows, after the first job has finished, only the execution time of the first job, as long as the second job is running.
After the second job has finished, the displayed time is updated to the right runtime.
It would be nice if the time could be right during the execution of the job as well.
blocks

JENKINS-39158 A completed parallel branch isn't showing up as completed in karaoke mode

Closed
duplicates

JENKINS-51208 Execution time of parallel steps displayed as max time among all steps in block

Open
is blocked by

JENKINS-41685 incorrect event received with workflow-api 2.8

Closed
is duplicated by

JENKINS-40031 Progress bar in stage not shown correctly if using parallel step in stage

Closed
relates to

JENKINS-43746 Update step heading to include selected parallel and live duration

Closed
links to