Bug

Critical

Resolution:

Cannot Reproduce
Summary:
After installing the plugins required for testing scm-api and related plugins, branches in a GitHub Multibranch project which were previously present, have disappeared from view. Pull requests, if there are any present in the project, are available in their own tab.
Environment:
Jenkins 2.42
Ubuntu 15.04
Relevant plugin versions: the complete will be in the support bundle. Here's a
SCM-API 2.0.2-beta-2
branch-api 2.0.2-beta-5
github-branch-source 2.0.1-beta-6
Steps to recreate:
Using a Jenkins with the pre-upgrade versions of the scm-api family of plugins, set up a known good set of GitHub multibranch pipeline jobs with lots of active branches inside.
Upgrade the plugins, using the (admittedly mistake-prone and somewhat fragile process of doing so mostly by hand)
Relaunch Jenkins.
The list of branches will be empty: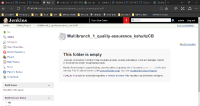 Note:
I short-sightedly removed the unusable data that Jenkins complained about when I brought the system back up. That data should hopefully still be in the support bundle. I will also go back and recreate this issue from a backup.