Type: Bug

Priority: Minor

Environment:

Jenkins version: v2.89.3
How to reproduce?
1. Create a simple pipeline:
```
properties([
  parameters([
    string(name: 'test', defaultValue: 'test', description: 'test')
  ]),
])
build(job: "alk-test")
```
2. Set a multiline string parameters for the job (e.g alk-test).

3. Run the pipeline -> when looking at the parameters, the multi-line string (default) is now one line.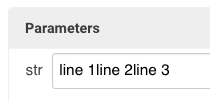 I am not able to rebuild the job after that.