Bug

Minor
Recently the visual look of Jenkins has changed a bit. It looks nice. However, when it comes to the job progress bars that are visible here and there, they no longer have a visible boundary, so especially if they're on a white background, it is no longer possible to see where the progress bar ends, and thus how far the build has come. This is mildly annoying, so I hope it is possible to make the size of the progress bar a bit more visible.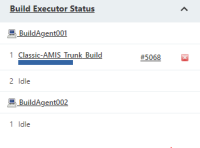 Here it is somewhat visible, if you're looking real close: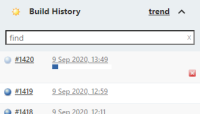 I think this is how they used to look, and apparently still do if you open the build page:



It's much more clear how far the build has come here.
causes

JENKINS-68672 Total length of progress bar still difficult to see in shaded rows

Closed
is duplicated by

JENKINS-63677 Progress bar in executors view is no longer useful

Closed

JENKINS-68439 Ambiguous total length of build progress bar

Closed
links to